The Barrie Curling Club can provide several facilities and services for its members and guests:
Curling - the Barrie Curling Club makes its facilities available for private bonspiels and both the ice and lounge facilities can be booked through the manager. Ice time may be rented for fundraising bonspiels or special corporate events.
Showroom Area - in the off season, the ice give way to a concrete floor that can be used for a variety of purposes includes sales

clearances

, home shows and vendor/supplier display areas.
Sports Area - the concrete floor may also be used for sports such as roller derby and floor ball functions.
Meeting Area - the boardroom can hold 20 people comfortable for training, board meetings and other gatherings.
Lounge, Dining and Kitchen - these areas are all hosted on the second level of the club and may be used for:

Social functions
Corporate meeting
Birthdays
Anniversaries
Stag & Doe
Retirement parties
Office parties
Fundraisers
Business meetings, training and gatherings

Contact Executive Caterers for menus.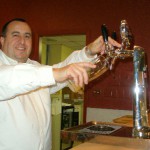 The upper lounge area is well appointed with comfortable lounge seating and a casual dining room. The lounge has big screen TVs and each sheet of ice has closed circuit TV that shows the outer end of the sheet. Additionally, the area is equipped with a sound system for corporate events. The dining room is available for rentals to members and outside groups for small and large events. The dining room/lounge can seat 140 people quite comfortably though we are licensed for 200.
We have an experienced staff that are used to small gathering and large groups. They include:
Dave McLean is our Bar Manager and coordinates the operation of the bar for regular league curling and other functions at the club. He can be reached at

This email address is being protected from spambots. You need JavaScript enabled to view it.

.
Our kitchen is operated by Executive Caterers who handle our kitchen services during regular league curling and cater all functions at the club during the curling season.
Contact the Manager at 705-726-1351 x 21 or at This email address is being protected from spambots. You need JavaScript enabled to view it. to schedule a viewing of the facility and an appointment to plan your event. Plan early to avoid disappointment.